Various Celebrity Sites!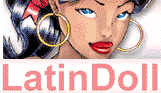 The Wonderguy Fan Page is dedicated to "Wonderguy," a former film of the people behind "Eve's Preyer." Lots of fun!


I Dig Daisy is such a beautiful site. Wonderfully designed, and its creator has a great personality, putting his heart into his work. Miss Daisy (Fuentes) owes him at least one kiss!